Pssst, over here! Have you ever heard of the NATO phonetic alphabet? No? Well, let me tell you, it's a language all its own! And, lucky for you, I've got the 16 best NATO Phonetic Alphabet PDFs that will break it down for you in a way that's clear, concise, and downright fun!
Let's start with the basics. The NATO phonetic alphabet is a way of communicating letters over the phone or radio by using standardized words to represent each letter. For example, "A" is represented by "Alpha", "B" by "Bravo", and so on. It's super useful if you need to spell out a word or name and want to avoid confusion.
But, let's be real, looking at a list of words can be a bit overwhelming. That's why these PDFs are so great! They break down the alphabet into easy-to-digest chunks with colorful graphics and helpful examples.
Take this first PDF for example. It starts with a simple introduction to the alphabet and then jumps right into the first five letters: "Alpha", "Bravo", "Charlie", "Delta", and "Echo". Each letter gets its own page with a big, bold header that reads "A is for Alpha", "B is for Bravo", and so on. Plus, there's a catchy little rhyme to help you remember each word. Check it out:
A is for Alpha
"A" is for "Alpha", no need to inquire.
Sounds like "apple" but it will never expire!
Next up, we've got a PDF that dives a bit deeper into the alphabet with sections on military applications, aviation, and emergency services. It even includes a handy chart that shows the NATO phonetic alphabet next to the International Civil Aviation Organization (ICAO) phonetic alphabet. Now that's what I call useful!
But wait, there's more! If you're a visual learner, you'll love this next PDF. It's got colorful graphics that show a person holding up each letter of the alphabet while wearing an outfit that matches the corresponding NATO phonetic word. So, for "A", there's a person dressed up like an astronaut holding up an "A" sign with "Alpha" written underneath. It's cute, informative, and just a little bit silly.
And, if you're looking for something a bit more in-depth, check out this next PDF. It's got everything from a history of the NATO phonetic alphabet to examples of its use in pop culture. Did you know that "Whiskey Tango Foxtrot" is actually military slang for "What the F***"? Well, now you do!
So, there you have it. The 16 best NATO Phonetic Alphabet PDFs to make learning this important language a little bit more fun. And, who knows, maybe one day you'll be communicating like a pro over the phone or radio with your newfound knowledge!
If you are searching about nato phonetic alphabet – Google Search | Phonetic alphabet, Alphabet you've came to the right web. We have 35 Pics about nato phonetic alphabet – Google Search | Phonetic alphabet, Alphabet like NATO Phonetic Alphabet, Pin on Alphabet Poster Love and also 16 best Nato Phonetic Alphabet Pdf images on Pinterest. Read more:
Nato Phonetic Alphabet – Google Search | Phonetic Alphabet, Alphabet
www.pinterest.com
nato phonetic
Maritime Alphabet Code : Nautical Flag Coloring Pages – Food Ideas
leaosixnha.blogspot.com
phonetic nato morse pow signals semaphore alfabeto flags asl floppys geocaching alphabets bandiere usefulcharts nautiche emoticons pbs survie más runen
Nato Phonetic Alphabet Pdf
www.flaminke.com
NATO Alphabet – Do You Know Your ABCs? | RECOIL OFFGRID
www.offgridweb.com
alphabet nato phonetic spelling know phone broker infographic voip code letters offgridweb tango slideshare abcs over foxtrot upcoming pictograms alfas
Do You Know What NATO Phonetic Alphabet Is? – ISES Association
www.isesassociation.com
phonetic
Military Printable Pdf Free Printable Phonetic Alphabet – This Is Easy
bateope.blogspot.com
nato phonetic templateroller maritime flag zulu
NATO Phonetic Alphabet
emcrit.org
alphabet nato phonetic spelling printable hotel version emcrit
NATO Phonetic Alphabet Code By RosApp Ltd
appadvice.com
phonetic
The Benefit Of Cheating And Value Of A Cheat Sheet – The Roomer Mill
www.theroomermill.net
sheet cheat alphabet phonetic nato cheating benefit value
Nato Phonetic Alphabet | Military Alphabet
militaryalphabet.net
alphabet military phonetic nato printable chart
16 Best Nato Phonetic Alphabet Pdf Images On Pinterest | Nato Phonetic
www.pinterest.com
alphabet nato phonetic pdf chart
Nato Phonetic Alphabet – Outside Open | Phonetic Alphabet, Nato
www.pinterest.co.uk
phonetic nato
Riddle Helper: NATO Phonetical Alphabet
riddlehelper.blogspot.com
alphabet nato phonetic spelling military german helper riddle code navo spell write
Pin On Nato Phonetic Alphabet
www.pinterest.com
medieval infographic forged arming prompts sandbox martial european nato alphabet armadura geeksaresexy
16 Best Nato Phonetic Alphabet Pdf Images On Pinterest | Nato Phonetic
www.pinterest.com
nato phonetic myblog mikeplato esoteric qadmon
Phonetic Alphabet For Security Guards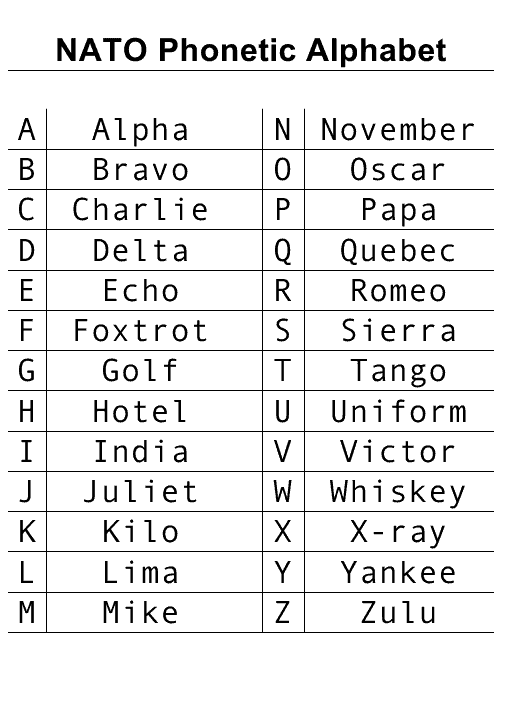 www.securityguardtrainingcanada.ca
phonetic templateroller guards
NATO Phonetic Alphabet, The Military Alphabet Letters, The Full List
symbolsandmeanings.net
alphabet phonetic nato
NATO Phonetic Alphabet – Wikipedia | Nato Phonetic Alphabet, Phonetic
www.pinterest.com
phonetic spelling alfabet letters fonetik morse phonetics faa radiotelephony echo abjad baku inggris codes kode pronunciation alfabesi agan dictionary icao
Nato Phonetic Alphabet List In Security | Military Alphabet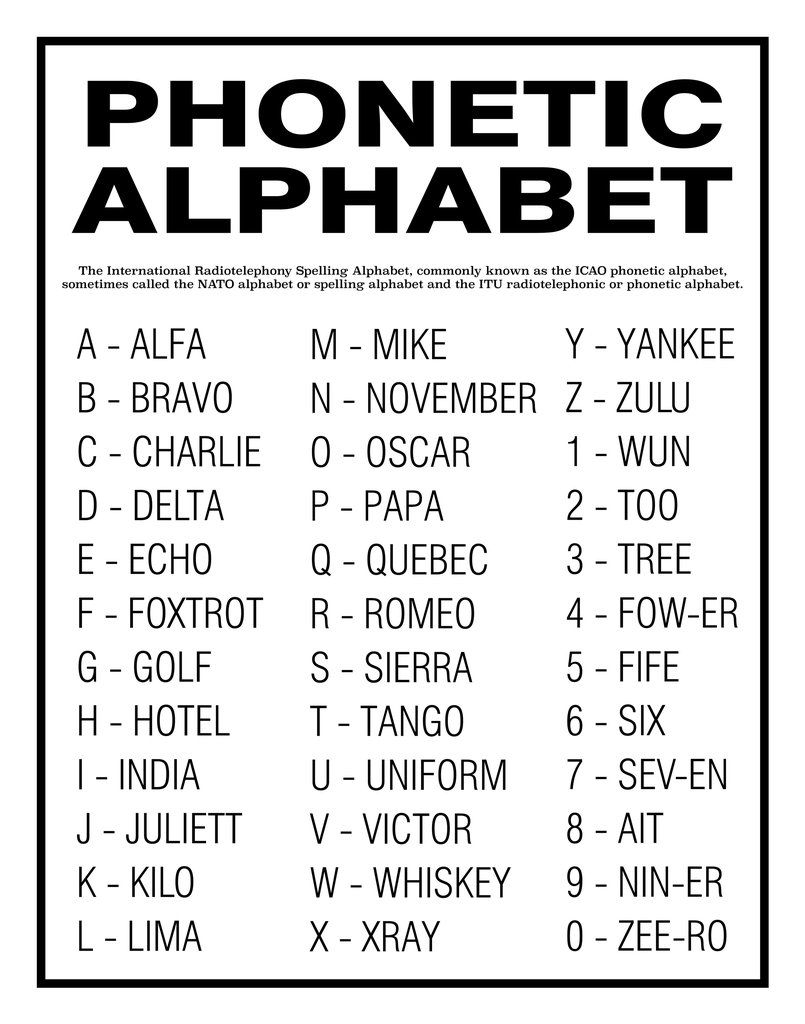 military-alphabet.net
phonetic nato alfabet phonetisches phonetics wtf fonetik mwo pronunciation radiotelephony symbol irsa foxtrot callsigns brokers interactive sensible plainly procedures gefunden
16 Best Nato Phonetic Alphabet Pdf Images On Pinterest
www.pinterest.com
alphabet nato phonetic
NATO Alphabet – Do You Know Your ABCs? | OffGrid | Nato Phonetic
www.pinterest.co.uk
alphabet nato phonetic know offgridweb
Pin On Alphabet Poster Love
www.pinterest.com
alphabet nato phonetic code posters examples poster military phonetisches easy block explore vocabulary
Allied Military Phonetic Spelling Alphabets – Wikiwand
www.wikiwand.com
phonetic military alphabet code alphabets spelling allied morse wikipedia tables nato
Nato Phonetic Alphabet Differences / International Phonetic Alphabet
flatironsforblackhairs.blogspot.com
NATO Phonetic Alphabet | Phonetic Alphabet, Nato Phonetic Alphabet
www.pinterest.com
nato phonetic
16 Best Nato Phonetic Alphabet Pdf Images On Pinterest | Nato Phonetic
www.pinterest.com
alphabet pdf nato phonetic
The NATO Phonetic Alphabet: What It Is And How To Use It – Effectiviology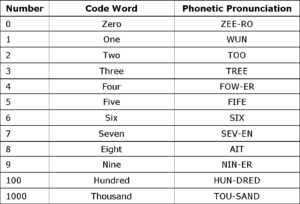 effectiviology.com
nato phonetic
The NATO Phonetic Alphabet Will Prevent Miscommunication

preparednessadvice.com
phonetic nato miscommunication
NATO Phonetic Alphabet
emcrit.org
alphabet nato phonetic printable version
Phonetic Letters In The NATO Alphabet
www.thoughtco.com
alphabet phonetic nato army print letters strip
NATO Phonetic Alphabet – Thoughts On Many Things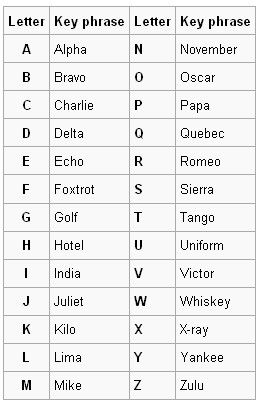 www.razumny.no
alphabet phonetic nato spelling english letters code letter codes words police phone using military phonétique alphabets key advantage vocabulary phonetics
The NATO Phonetic Alphabet Is The Most Widely Used Radiotelephone
www.reddit.com
phonetic spelling widely radiotelephone coolguides commonly ensures education favorget cheat superzure
The NATO Phonetic Alphabet – When You Want To Impress That Person At
www.pinterest.com
alphabet phonetic nato call center chart code font imgur
Nato Phonetic Alphabet Table – Quote Images HD Free
oppidanlibrary.com
alphabet phonetic nato table bad phone over chart use name official center
NATO Phonetic Alphabet | Communication | Semiotics
www.scribd.com
phonetic semiotics
Phonetic nato miscommunication. Nato phonetic alphabet. The benefit of cheating and value of a cheat sheet
Gallery for Nato Alphabet Communication System Nato Phonetic Alphabet, The Military Alphabet Letters, The Full List